Services for Commercial Properties
Structure & Site offers the most complete range of property services available from a single source.
Commercial & Industrial Building Inspections
Phase l Environmental Site Assessments
American with Disability Act (ADA) Reviews
Asbestos Surveys
Mold Investigations
Each report designed to provide you with information that can reduce costs, increase safety and limit liability with your building.
Commercial & Investment Property Inspections
A property condition inspection can reduce building costs and liability.
Sophisticated investors are becoming aware of the importance of performing a detailed, specialized inspection of commercial & industrial properties, often referred to as a Property Condition Assessment (PCA). With the hefty cost and liability of owning commercial real estate, investors need to obtain specific information about the physical, mechanical and environmental condition of the building they are about to purchase or lease.

We Can Answer All Your Questions
Is the building sound?
Costs for roof replacement?
Condition of heating/cooling equipment?
Did the last owner contaminate the soil?
Does the building comply with ADA standards?
Building Inspections
Structure & Foundation
- Build methodology, foundation material, and framing material will be evaluated. The buildings core strength systems will be reviewed for areas of stress, weakness and failure.
Roof
- The surface material, flashings, chimneys and drainage components will be reviewed. A determination of age, overall condition and anticipated lifespan will be reported. Immediate repairs will be identified and replacement costs calculated.
Exterior
- Framing properties, exterior materials, window frames, lentils and doors and doorframes will be examined.
Property & Grounds
- Condition of asphalt and concrete driveways, walkways, landscaping, truck wells, storm water drain locations, grading, building signage and site lighting are evaluated
Electrical
- Size of incoming service, quantity and size rating of distribution panels, system grounding, outlets, switch panels, ground fault circuits, arc fault circuits, transformers and lighting.
Heating & Cooling
- Age of equipment, overall condition, functional testing, number of units and maintenance history. Costs associated for replacement units.
Plumbing Analysis
- A flood test (operating all water outlets simultaneously) to test - water pressure, distribution piping, waste piping, bathroom fixtures and hot water tanks.
Interior
- All interior elements including walls, ceilings, flooring, bathrooms, warehouses, offices and storage areas will be examined and detailed
Repair & Replacement Cost Breakdown
- An assessment of anticipated costs for the repair and/or replacement of any significant deficient item from immediate to five years.
Americans with Disabilities Act (ADA) Review
- Does the site provide adequate parking, curb cuts, wheelchair ramps, entrance configuration, restrooms, drinking fountains, elevator controls, signage, fire protection?
Fire Protection
- Assessment of central sprinkler systems, fire pumps, emergency lighting, illuminated EXIT signs, smoke and temperature monitors, fire extinguishers, certification tags.
Mold Inspections
Mold growth within a commercial building is a significant liability. Thousands of lawsuits are filed against building owners, land lords and tenants for allowing building inhabitants to be exposed to colonizing mold.
70% of the buildings we inspect have some type of colonizing mold growth. The majority of building owners/landlords have no idea that the condition exists. Sustained mold growth and mold spore release can and will affect people very differently, making this a murky subject - that's why the lawyers love it.
Protect yourself and your building residents with a complete and certified analysis of the interior areas of the building where physical mold can grow and produce spore activity. Moisture meters will be used to identify potential areas of sustained water leaks which foster mold growth. If physical mold growth is identified, samples will be taken and submitted to an independent laboratory for analysis.
Indoor Air Quality Testing
Indoor air quality testing can detect mold growth in hidden areas that are not visible. Undetected mold growth in commercial buildings results in thousands of cases of sick building syndrome and health related law suits per year. The comprehensive testing also provides dander, pollen, particulate and fibrous counts, giving you a clear view of what's hanging out in the buildings air.
Radon Gas Analysis
All buildings have some level of radon gas. Buildings built on slabs or basements have tested positive for elevated radon levels. Radon is a by-product of decaying uranium, is a radioactive gas and is the second leading cause of lung cancer. The EPA is focusing heavily on radon gas to help explain the rapidly rising numbers of lung cancer in the U.S.
Phase 1 Environmental Site Assessment
Certified documentation of the historical usage and recognized environmental conditions of the site. What threats to the ground soil, ground water and interior space did the previous owners leave behind? Do the neighboring buildings negatively impact my site? Was this building built on an old gas station or dry cleaners? Once you own a building, you own its history. Make sure you know what your environmental liability is. Most financial institutions will require this if the property is to be mortgaged.
Portfolio Inspections
If your organization has multiple properties, we can provide you with property condition reports, capital reserve studies, immediate repair & replacement costs and presale evaluations for the lot of properties in a timely manner.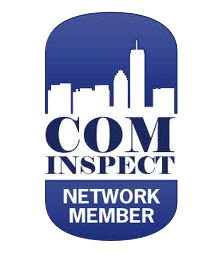 Nice Words From Our Clients